Si estas en busca de trabajo dentro de la industria del tiempo compartido, envia tu CV actualizado a bolsadetrabajo@amdetur.org.mx o súbelo directamente a través de nuestro formato online.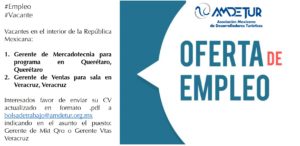 Vacantes en el interior de la República Mexicana:
1.- Gerente de Mercadotecnia para programa en Querétaro, Querétaro
2.- Gerente de Ventas para sala en Veracruz, Veracruz
Información Confidencial
Interesados favor de enviar su CV actualizado en formato .pdf a bolsadetrabajo@amdetur.org.mx indicando en el asunto el puesto: Gerente de Mkt Qro o Gerente Vtas Veracruz
Fecha de publicación: 16/abril/2019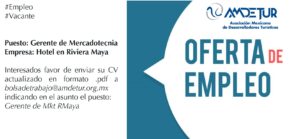 Puesto: Gerente de Mercadotecnia para hotel en Riviera Maya
Interesados favor de enviar su CV actualizado en formato .pdf a bolsadetrabajo@amdetur.org.mx indicando en el asunto el puesto: Gerente de Mkt RMaya
Fecha de publicación: 16/abril/2019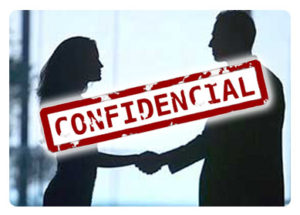 General Manager Job Description
BASIC INFORMATION
Division & Department: Resort Operations
Job Status: Full time
Reports To: Vice President of Resort Operations
FLSA (exempt or nonexempt) Status:

Exempt

Positions Supervised: All department heads, supervisors, and managers. This includes but is not limited to the Assistant General Manager, Front Office Manager, Executive Housekeeper, and Chief Engineer
POSITION SUMMARY
The General Manager is responsible for the overall operation, delivery of quality vacation experiences, resort assets management and desired guest satisfaction thresholds of the resort and management through adherence to brand standards and effective leadership of all departments.
ESSENTIAL FUNCTIONS
The General Manager:
Assigns duties to department heads and provides resources for each department to achieve the operations goals.
Utilizes training resources and standard operating procedures to effectively lead the resort.
Reviews department head/managers performances, job skills development and conducts disciplinary actions as necessary.
Inspects resort for cleanliness and appearance and ensures that below standard items are promptly addressed.
Prepares annual budgets consistent with the expectations set forth by the board of directors and Vice President of Resort Operations.
Reviews monthly financial statements and makes necessary operational changes to adhere to budgetary guidelines.
Prepares and submits all required paperwork timely and accurately.
Responsible for strict compliance of all mandated Standards of Operation
Assists Vice President of Resort Operations and Association Administrator on all Board reporting and association governance requirements.
Must be fluent in speaking both Spanish and English langauges.
OTHER FUNCTIONS
The General Manager may also:
Provide management for any department in the absence of the department head/manager
Join local industry affiliated organizations that may be beneficial to the property or the company as a whole.
Perform any other duties that may be required to ensure proper property operations or budget adherence.
Review purchases made at the resort to ensure SOP adherence and budgetary guidelines are being followed.
POSITION QUALIFICATIONS/REQUIREMENTS
Education/Credentials
This position requires at least a High School diploma or GED.  Special consideration will be given to those individuals with an industry related degree.
Experience
 This position will require at least two years management experience in hotel/resort operations  at a property of similar size and/or quality.
PHM's Core Competencies
Customer Orientation—A focus on meeting and exceeding customer expectations; a continuous awareness of how all work tasks and daily activities impact the customer.
Oral and Written Communication—The ability to recognize and appropriately communicate critical information; a focus on professionalism and etiquette in all communications.
Conflict Management—Orientation toward solutions in times of conflict; ability to maintain composure of self, influence composure of others, and effectively mitigate conflict situations.
Self-Discipline—A natural tendency toward achievement of goals and thorough completion of all tasks; ability to work through unforeseen obstacles and maintain focus on overall expectations.
Professional Conduct—Continuous positive representation of the organizational brand; awareness of one's surroundings and the ability to develop professional relationships with all staff.
Adaptability to Change—Positive approach to minor or major changes; the ability to help others maintain a positive attitude through times of change
MANAGER COMPETENCIES:
Supervision—A focus on the safety and security of others in the work environment; ability to observe, monitor and be accountable for the active work of multiple individuals or tasks.
Management—A strong business acumen coupled with a high level of integrity and professional standards; orientation toward protecting the image and brand of the organization.
Decision Making—Ability to make decisions confidently and swiftly while considering relevant or critical information; accountability for the outcomes of decisions.
Leadership—Continuous representation of the organizational values; strategic vision coupled with the ability to mentor subordinates.
Growth and Mobility—Tendency toward growth and long term achievement; orientation toward learning new tasks and a willingness to consider personal compromises for career advancement.
Knowledge & Skills
 Accuracy: Ability to perform work accurately and thoroughly.
Autonomy: Ability to work independently with minimal supervision.
Initiative: Ability to make decisions or take actions to solve a problem or reach a goal.
Leadership: Ability to influence others to perform their jobs effectively and to be responsible for making decisions.
Reliability: The trait of being dependable and trustworthy.
Other Requirements
None at this time
PHYSICAL REQUIREMENTS
Next to each activity insert N, O, F, or C based on the job requirements.
| | |
| --- | --- |
| N (Not Applicable) | Activity is not applicable to this occupation. |
| O (Occasionally) | Occupation requires this activity up to 33% of the time (0 – 2.5+ hrs/day) |
| F (Frequently) | Occupation requires this activity from 33% – 66% of the time (2.5 – 5.5+ hrs/day) |
| C (Constantly) | Occupation requires this activity more than 66% of the time (5.5+ hrs/day) |
Add other physical requirements as applicable.
Physical Demands
Lift/Carry

| | |
| --- | --- |
| Stand | F |
| Walk | F |
| Sit | F |
| Handling / Fingering | F |
| Reach Outward | F |
| Reach Above Shoulder | F |
| Climb | O |
| Crawl | N |
| Squat or Kneel | O |
| Bend | F |

| | |
| --- | --- |
| 10 lbs. or less | F |
| 11-20 lbs. | F |
| 21-50 lbs. | O |
| 51-100 lbs | N |
| Over 100 lbs | N |

Push/Pull

| | |
| --- | --- |
| 12 lbs or less | F |
| 13-25 lbs | O |
| 26-40 lbs | O |
| 41-100 lbs | N |
WORK ENVIRONMENT
The General Manager works in an office setting with a schedule consistent with the business demands of the resort.  This could include nights, weekends, and some holidays.  The job requires the consistent inspection of the resort and its contents which could require long periods of walking inside and outside during all times of the year and in different weather conditions.
 DISCLAIMER/SIGNATURE
This job description is intended to provide guidelines related to the essential functions, required competencies, and the work environment. It is not all-inclusive and the company may change it with or without advance notice to the incumbent(s). In addition, the company may assign other duties and/or requirements at any time, based on its sole prerogative. This document does not represent a contract of employment.
FOR MORE INFORMATION PLEASE CONTACT: bolsadetrabajo@amdetur.org.mx
Fecha de publicación: 6/febrero/2019

Contratando ahora!
Programa de Net Center
*Escolaridad mínima preparatoria
*Sexo Indistinto
*Computación básica
*Inglés avanzado (90%, conversacional)
*Disponibilidad de horario
*Excelente presentación
*Edad: A partir de los 23 años
*Gusto por las ventas
Para mayor información llama al:
01800 8417300 / 2222101
Email: blanca.silva@garzablancapreserve.com
           georgina.narvaez@garzablancapreserve.com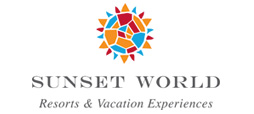 Se solicita:
Asistente Ejecutiva VP Marketing
REQUISITOS:
Sexo Femenino
Edad 30 – 40 años
Indispensable bilingüe
Excelente ortografía
Habilidades computacionales
Actitud proactiva
*Contratación inmediata*
Interesados mandar CV a:
recursoshumanos@sunsetworld.net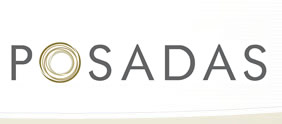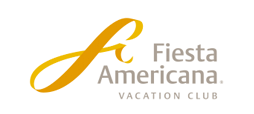 Se solicita:
VACATION CONSULTANT
PLAYA DEL CARMEN
REQUISITOS:
Sexo: Indistinto
Inglés: Avanzado Indispensable
AMPLIA disponibilidad de horario (no estudiantes).
Edad: 19 años en adelante.
Preparatoria concluida como mínimo (Licenciatura trunca deseable).
COMPETENCIAS:
Iniciativa
Trabajo en Equipo
Enfoque a Resultados
Apego a Normas
Actitud de Servicio Comercial
INFORMES:
E-mail: atalentosureste@posadas.com
Tel. (998) 881 14 00 EXT. 1806
Se solicita:
HOSTESS
CANCÚN
REQUISITOS:
Únicamente damas.
AMPLIA disponibilidad de horario (no estudiantes).
Edad de 19 a 30 años.
Inglés intermedio-avanzado requerido.
Preparatoria concluida como mínimo (Licenciatura trunca deseable).
Buena presentación y excelente actitud.
Inglés Avanzado
23 años en adelante
Experiencia mínima 1 año
Buena presentación y excelente actitud.
COMPETENCIAS:
Breve Check-In de visitantes.
Actividades administrativas y control de datos.
Elaboración de reportes de ventas diarias.
Captura de información específica.
Resguardo e inventario de valores.
Uso de software especializado.
Entrega de cortesías.
INFORMES:
E-mail: atalentosureste@posadas.com
Tel. (998) 881 14 00 EXT. 1806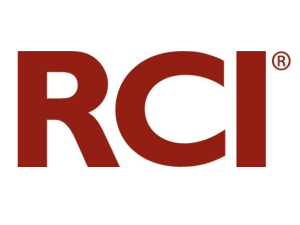 Empresa Norteamericana líder en el ramo turístico solicita Guías Vacacionales Bilingües
¿Dominas los idiomas Inglés al 90%?
¿Tienes experiencia en ventas telefónicas?
Disponibilidad de Horario
¡Contáctanos!
Contamos con un excelente ambiente laboral y esquema de contratación (comisiones, prestaciones superiores a las de la ley, etc.)
¡Estamos en búsqueda de talento!
Contacto
daniel.rivas@hotel-dynamics.com
andrea.gutierrez@latam.rci.com
IMPORTANTE: ES necesario tener cita previa para poder presentarte.
¡Te esperamos!
Tel.- 52-83-10-00 ext. 5109/5191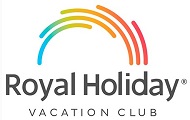 Sé parte de una de las empresas líderes de la industria turística. Desarrollate como:
Asesor Vacacional Nacional o Bilingüe
Ofrecemos
Sueldo neto entre $5,100 a $7,600 más atractivo esquema de bonos, logrando ingresos superiores a $13,000 mensuales.
Prestaciones superiores a las de ley.
Estabilidad laboral y crecimiento profesional.
Capacitación constante y pagada.
Actividades de integración.
CONTRATACIONES TODO EL AÑO
Para ser Asesor Vacacional necesitas:
Bachillerato concluido, Licenciatura Trunca o concluida
Tener el dominio al 100% de Inglés o Portugués (deseable Francés)
Con o sin experiencia en atención y servicio al cliente
Actitud de servicio, trabajo en equipo y querer trabajar por objetivos
Manejo de paquetería office
Disponibilidad de horario de lunes a sábado, tiempo completo.
Contacto
PERFIL DE PUESTO:
Propósito general del puesto :
Lic. En Turismo, mercadotecnia o afín
Si su empresa busca candidatos envíe toda la información respectiva a bolsadetrabajo@amdetur.org.mx o complete directamente nuestro formato online.